ELEPHANT TÔK
(Soleil Mutant 51 // CD)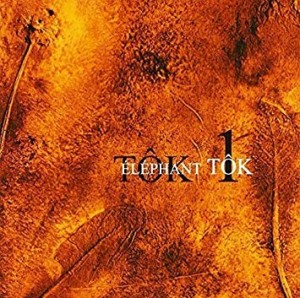 Combining the popular urban music of the past and present, spreading their call by transcending musical genres, cultural and social ghettos, such is the concept behind ÉLÉPHANT TÔK, a collective founded by composer and drummer Daniel Jeand'heur. While his musical inspiration is rooted in 70′s jazz and rock, they are in no way limited to this time period. Yet it is clear that the dense and refined sound of the music from that era gave him a taste for improvisation and bold, adventurous musical hybrids.
Initially a trio, it has expanded to a seven-piece and finally an octet (brass, keyboards, guitar, bass, drums and vocals), ÉLÉPHANT TÔK revisits the sheer sonic power of bands like Lifetime, Weather Report, King Crimson with echoes of the brass-tinged sound of Detroit's Tamla and Afro-American soul music, then adding into the mix the "street talk" of today's urban areas. The slammer and actor Onan throws his rapped multi-lingual tirades into the modular, open-ended spaces of Daniel Jeand'heur's compositions, made of haunting themes and uncompromising solos.
ELÉPHANT TÔK combine a dense, feverish sound with raging, vindictive vocals, whose calls to the pursuit for freedom blossom in musical forms that contain the echoes of past and present anger. With their debut album Tôk 1, they launched into orbit a fusion of crosssgenerational colours and screams that blow away mental barriers between learned and popular art. Undoubtedly, this project should awaken the consciences of audiences tempted by coming together, entering a fruitful dialogue and combining their strengths.
BONUS // The CD is sold with a card that allows the download of an instrumental version of the CD at not extra charge – for the pleasure of a rediscovering the album from a radically different angle.
BIO
ÉLÉPHANT TOK is a project led by drummer Daniel Jeand'heur, well known on the French scene from various projects (One Shot, Pienza, LovelyFly trio, Snake Oil, Up Drive trio, in addition to his participation in various collectives).
He is joined by talented musicians: Boris Blanchet, with whom he released an album of  sax/drums duets in 2009, Aymeric Avice on trumpet, Philippe Meunier on guitar, David Fontaine on bass, Romain Nassini on keyboards, plus slammer Onan.