RHÙN – Fanfare du chaos
(Soleil Mutant 52 // Vinyl)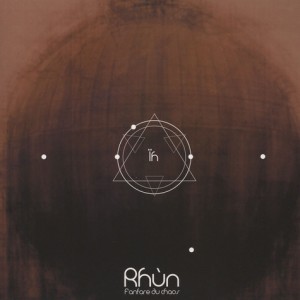 This album was previously released (2013) on CD by the Italian label AltrOck. Zeuhl SunnyWind vinyl edition in 2016, limited to 300 numbered copies. White vinyl 180 grams.
The debut album by the Normandy-based Rhùn, who call their music "garage-zeuhl". A rather uncommon album in its structure, since its playing time (…) is divided equally between recent recordings and the contents of a demo from 2008. However, this detail can be ignored, as the septet's musical direction hasn't been significantly affected by the changes in the line-up (which concern the positions of bassist and singer), and the production work is relatively homogeneous (…).
The instrumental set-up is quite unique, with the core guitar-bass-drums trio reinforced by a rich polyphony of woodwinds (saxophones, clarinet, bassoon, flute) and vocals (two lead and five backing singers), which makes up for the lack of keyboards, often deemed essential in this musical genre. What musical genre does this fit in? Undoubtedly, although limiting, to classify Rhùn as being broadly in the Zeuhl idiom isn't far from the truth, with the use of heavy and repetitive riffs propelled by a roaring rhythm section and adorned with choral scansion in an invented Kobaian-like language. The sequences in question clearly refer to Jannick Top's compositions for Magma, but these familiar atmospheres coexist, more surprisingly, with much more melodic, almost contemplative sections, within multi-section epic compositions that are rich in contrast.
The "recent" part of the album (side 1) includes two 9-minute pieces, with a shorter one for just woodwinds placed inbetween, itself preceded by a long solo flute postlude. The three tracks from 2008 (side 2) are more predominantly "jazz" in nature, although there was already a clear rock and/or Magma-like element in certain sequences, each of them allowing a soloist (sax, flute, female voice) to express themselves at length. The energy is impressive and often infectious, but not always well-served by the production in the densest moments (for example the finale of "Mlùes", where the rhythm section suddenly seems overwhelmed by the guitars).
A more than promising debut release by Rhùn, (…) hoping to experience them in a live setting (…).
Aymeric LEROY – Big Bang magazine (2013)