Guérison
(Soleil Zeuhl 37 // CD)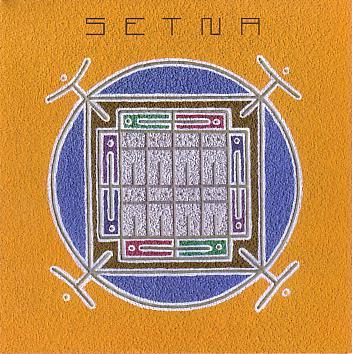 Extraits mp3
SETNA's second album, with contributions from Yannick Duchene (vocals) from NEOM and Benoît Widemann (Moog). At the crossroads of progressive and zeuhl – 3 long suites (9.52 / 26.16 / 14.58) plus 2 bonus tracks from the recording sessions.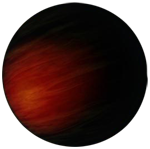 While it is obvious that Setna's scarcity in both music stores and concert venues is also
(if not above all) due to pragmatic reasons (which is confirmed by his leader Nicolas Candé in the interview accompanying this review), it is tempting to see in this parsimony the expression of an artistic ethos dictating that the band should only manifest themselves when they think they have something truly important to say, beyond the (perfectly legitimate and mutual) satisfaction of giving us the latest progress report on their musical evolution – in this case, and this isn't insignificant, the long-awaited follow-up to Cycle I (2007), one of the most finest French progressive albums in recent memory.
Before even considering his music in the light of critical considerations (an "objective" description of his music and a subjective assessment of its value), it must be noted, since it's so obvious to the eyes (and ears) that a "spiritual" aura emanates from Setna that largely transcends their stylistic reference points, and gives their music a much more universal resonance. As such, one is advised to read the booklet notes while listening, as they usefully put the music in perspective. While conceptual arguments often look like a way to artificially lend coherence and depth to something that lacks either, they also underline in this case a striking correspondence between the indications given and their musical incarnation.
Of course, the universality of its emotional essence does not detach Setna's music from any historical and musical frame of reference. Indeed it is anchored in the Zeuhl school (the triptych formed by the haunting Fender Rhodes motifs, the powerful and sometimes fuzz bass, and drums that are in turns propulsive and pacifying), but with more than ever before, elements of the Canterbury sound (in the combination of refined melodies and complex rhythms), as explicitly underlined by the occasional use of the fuzz organ sound characteristic of the genre.
Not wanting to lock Setna into this particular web of references – this will, at least, have the merit of making a potential audience aware that they will find much to enjoy about their music (and it is hard to imagine they would be disappointed upon hearing it), this is probably the only criticism that could possibly be directed at the Rouen-based band: that of working in a sound aesthetic that is objectively "dated" to a time a good forty years ago, in both its sound and style. But this "purism", which some may see as retrograde, is only an antidote to all that was wrong about the 1980s sound, of which it was said at the time that it had "outdated" those of the previous decade, an argument few would still advance nowadays. Ultimately, the fact is that many of the strongest albums that have recently appeared in the genre (Änglagård springs to mind) are rooted in what some have called a backward attitude, but is actually just an aspiration to sound timeless.
But let's leave aside theoretical issues and explore the content of Guérison in more depth. Unlike Cycle I, conceived as a single entity, this second album is presented as three long, distinct suites lasting 10, 26 and 15 minutes.
The first of these being entitled "Cycle II" accounts for one's impression, a little confusing at first, of going straight to the heart of the matter, with none of the drama usually associated with an album opener, as if Setna simply intended to pick up where they'd left off, with no in superfluous preambles. In fact, the band regain possession of their territory with indisputable authority, reasserting the foundations of their style but all the while introducing new, both vocal (Yannick Duchene's androgynous timbre, multitracked into a bewitching polyphony) and instrumental (the fuzz organ and bass clarinet in the 2nd movement, the jazz-tinged vibraphone in the 3rd) colours.
The aptly-named "Triptych" then seeks to open up new horizons, venturing into more introspective, meditative territory. The opening section serves as the album's proper introduction after the extended post scriptum of "Cycle II": several new instrumental voices are introduced – Benoît Bugeïa's piano, Nicolas Wurtz's electric guitar and Benoît Widemann's airy and twirling Minimoog – making themselves heard against a backdrop of grandiose Mellotron strings. The next phase, dominated by 12-string guitar and double-tracked (high and low-pitched) vocals, is simpler and more repetitive in its construction, justifying what is initially perceived as an incongruous dedication to Roger Hodgson. Not until the final phase, structured around the heady see-sawing piano chords (inevitably calling to mind McCoy Tyner's playing in "My Favorite Things" as reinvented by John Coltrane, a major influence for Christian Vander), over which vocal textures and Mellotron flutes intertwine, while the rhythm section orchestrates a powerful ascent that reintroduces hitherto muted Zeuhl accents.
The second part takes us even further away from Setna as we've known them. The existential torments mentioned in the booklet notes are embodied by Duchene's voice, now distant and plaintive, and Floyd-like lead guitar by Samuel Philippot. Benoît Widemann's enchanting Minimoog regains the foreground, finding itself at the heart of a keyboard extravaganza in which the Mellotron once again plays a central role. A subtle acceleration in tempo leads into a more muscular phase, perhaps the most Magma-like on the album, but with the 12-string arpeggios preserving a sense of continuity.
The third and final part of "Triptych" is the most ostensibly spiritual, inviting the listener to "empty" their mind, a process of purification that extends over several minutes, almost static, with an insistent Fender Rhodes motif repeated identically like a mantra taking the listener back to their interiority. Then, without warning, the rhythm section introduces movement, and it is as if we were suspended in mid-air, spellbound by the unlikely combination of timbres (Bitches Brew-style bass clarinet, lap-steel guitar, and the decidedly infectious, fervent singing). One can clearly perceive, in these engaging yet serene developments, Setna's singularity in a Zeuhl idiom from which they clearly borrow a number of stylistic traits, but use them to serve musical aims that have little in common, in spirit, with Magma.
These extreme emotions needed to be experienced before entering the final phase of the process, the title of which suggests a happy ending: the healing promised by the album's title. Bathed in lush keyboard textures, the drums begin by purifying the soundscape with an anti-demonstrative solo then, in tandem with the Rhodes introduce a seven-time rhythm that, after the heavy and tortured atmospheres of the previous minutes, takes on almost cheerful accents. Yannick Duchene soon adds his vocals to the mix, and the track reaches its cruising speed. At this moment, Widemann finally rewards us with a classic, lengthy Minimoog solo we had been hoping for since his first appearance: a great slice of old school jazz-fusion worthy of the best of the French Jan Hammer's solo work. The keyboard fiesta doesn't stop there: the next section has the only substantial contribution to the album by Nicolas Goulay, formerly Setna's main soloist but merely an occasional guest on this album, with a long Canterbury-style fuzz organ solo. Finally, for the sake of conceptual coherence maybe, the 12-string guitar of "Triptyque" makes a brief return, before the a soft, rubato finale, a musical ellipsis that leaves one already impatient to discover the next episode in the band's enthralling adventures.
After such a perfect finale, the merits of including as bonus tracks two outtakes from the album sessions can be argued. Despite the undeniable merit of those extra minutes (an entire CD of such material would indeed be a tempting proposition), one wishes Setna would have resisted this false good idea that ever-so-slightly alters the album's formal integrity. It is only disappointing, of course, because Guérison is such a great album. So, may our friends over in Rouen rest assured: they are already (more than) forgiven!
Aymeric Leroy – BIG BANG MAGAZINE
Enregistrer